Home depot outlet covers-Oversized switch plates up to 7 gangs & 15 metal finishes made in USA. Find 40 jumbo sizes; switches & electrical outlets at Kyle Switch Plates.
<![CDATA[
Oversized Switch Plates & Outlet Covers
Shop 75+ oversized switch plates and outlet covers up to 7 gangs wide in 15 metal finishes made in USA. Find extra jumbo and super large sizes only at Kyle Switch Plates.
Easily Cover Holes in Drywall Near Light Switches & Outlets
Find the widest selection of jumbo wall covers at Kyle Switch Plates. 5.5″ tall & larger cover plates are ideal for covering up contractor mistakes, such as an uneven opening cut around the electrical box. Save yourself the hassle of patching up chipped drywall and easily hide the eyesore with these bigger-than-standard size switch plates. Available for light switches, outlets and blanks, these wall plates are as big as they come and fit all regular electrical devices. Made in USA, in stock & ready to ship.

TIP: If your plate is not quite covering the defect on your wall, try positioning the electrical device as close to that area as possible. This may give you up to 1/8″ more coverage on that edge. To do this, turn off the power, loosen the screws, shove over the device as far toward the defect as possible then retighten your screws and restore power. Then when you replace the plate, your imperfection may now be covered.
What are my size options for jumbo wall plates?
Kyle Switch Plates offers the best selection of large light switch plates because Kyle's exclusive sizes are custom-designed. Choose from midway or oversized wallplates that are 5″ (tall plates), 5.06″ (midway covers), 5.5″ (oversized) 6.38″ (jumbo oversized), or 7.5″ (ultra oversized) tall in a variety of configurations. Also find switch plates here that oversized length-wise too: wide or extra wide light switch covers.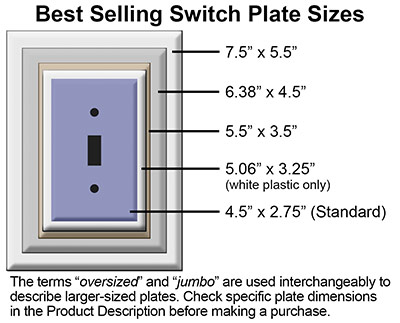 Do I need oversized switches and outlets if I use oversized light switch covers?

No. Rest assured that your current electrical devices will fit your new oversized switch plates just fine. The electrical switch and outlet openings (as well as the screw holes) are all standardized and are not affected by the size of the wall plate covering them. (The device stays the same, only the overall dimensions of the plate itself vary to cover a larger area of the wall – whether from slighter bigger, wide, tall, or mid-way wall plates to jumbo, ultra oversized, or even odd-shaped decorative covers – so your jumbo switchplate will always be compatible with your current light switches and outlets.

What is the finish on your oversized switch plate covers?

Oversized outlet covers and light switch plates are made in the USA in a variety of metal finishes to ensure durability and long-term attractiveness. These high-quality metal switchplates won't fade, crack, or discolor over time, and if you need to buy more in the future, they will still match the ones you've already purchased. To find out more about any of finish you are interested in, please click on the colors you'll find on Switch Plate Finishes.
Can I buy oversized switch plates in plastic?

Quality oversized plastic switch plates are not available. If you need something in between a standard size and jumbo size, you can shop plastic midway light switch covers. If you need a cover plate that is at least 5.5″ tall, we recommend metal oversized switchplates. You'll find:
More Sizes: We carry over 60 sizes so you'll be able to have a complete set of matching plates in your home or office.
More Finishes: With 15 gorgeous finishes, you'll be happy you didn't settle for tacky-looking, cheap white plastic plates.
Unbreakable: These sturdy, durable metal switch plates are going to outlast any plastic plates which can crack if you over tighten the screws and will discolor over time.
Standard Look: In the photo, compare plastic light switch and outlet covers with an oversized switch plate – blends in beautifully if you are trying to match plastic plates in your home or office.
When should I buy oversized wall switch plates?
Hide Imperfections – Large, oversized light switch plates are the perfect solution when you need to cover extra space around your electrical box. Whether the hole in the wall was cut too big or you're dealing with cracked plaster or paint buildup around your old switch plate, jumbo wall plates are a quick fix when you need extra coverage around your switches and outlets.
Extra Protection – Customers often buy jumbo electrical outlet covers and switch plates when they want the extra protection around a high-use socket or light switch where the wall is likely to get scratched or damaged from frequent use. If you notice that the paint or wallpaper around your switches looks worn or dirty, then oversized cover plates are a good solution for keeping your home looking its best.
Bolder Look – From an aesthetic standpoint, some areas are more attractive with the bolder styling of jumbo wall plates, for example in great rooms or grand entryways, where the proportions of the covers are more in keeping with the scale of the other furnishings.
You can buy oversized outlet covers and switchplates in up to 60 configurations in a wide selection of quality metal finishes so go bold and beautiful with your project.
I don't see the exact size I need in a really unusual light switch plate configuration. Do you have a solution?
Be sure to see Oversized Switchplate Options – Compare Sizes for other creative solutions if you aren't finding exactly the proportions you need in a jumbo wallplate such as tall, midway, 2-gang centered, tandem, or extra wide wall switchplates. You'll find a lot of choices as well as clever ideas for covering the hole in your wall.
Other Specialty Switch Plate Solutions
The larger plate you need may be a deep plate rather than oversized.
Deep plates will fix gaps behind plates, ranging rom 1/8″ to 1/2″.
Gaps underneath outlet covers can be caused by protruding electrical wall boxes or by large bukly GFCI devices.
Deep plates are the most aethetically pleasing way to fix a gap, but not every configuration is available.
Depth rings can also be stacked underneath your covers to fix gaps in increments of 1/8″.
If your electrical outlet or other device is sunken down in the cover, lift the device forward in the box with spacers.
Spacers sit under switches or sockets and bring them forward to sit flush with the cover plate. They are stackable and 1/8″ each.
]]>
<![CDATA[home depot outlet covers]]>
Home depot outlet covers



SOURCE: http://www.kyleswitchplates.com/oversized-switch-plates-outlet-covers/