#online #masters #degree #in #speech #pathology
#
M.S. degree program in speech – language pathology
HEGIS code 1220
NYS SED program code 77738
Matriculation requirements
——————————————————————————
Applicants must offer at least 24 credits in speech-language pathology and audiology with grade point average of 3.00 or higher. The credits must include courses as follows: acoustics of speech, language and hearing, anatomy and physiology of the speech, language and hearing mechanism, speech and language acquisition, audiology, treatment of speech and language disorders, phonetics, nature of speech and language disorders, and statistics. General matriculation and admission requirements of the Division of Graduate Studies are in the section "Admission."
——————————————————————————
Degree requirements
——————————————————————————
59 – 71 credits are required for the degree.
Students must pass a written departmental comprehensive examination and must take and report their scores on the Praxis Examination in Speech-Language Pathology. Information about requirements for the comprehensive examination is in the section "Academic Regulations and Procedures." Courses in the Department of Speech Communication Arts and Sciences offered toward the degree must be 7000-level courses. The program of study must be approved by an adviser in the student's major area of concentration. Students must also complete requirements in speech-language pathology, as follows: SPEC 7107X. 7128X. 7211X. 7313X. 7321X. 7323X. 7325X. 7326X. 7327X. 7331X. 7333X. 7336X. 7337X. and U7441X ; and not more than 11 credits in clinical practicum, for a minimum of 400 clock hours. A maximum 11 credits in courses in clinical practicum (SPEC 7395X. 7396X. 7397X. 7398X. 7399X and 7691X ), and/or 14 credits with special problems (SPEC 7296X ), and courses taken on a tutorial basis may be counted toward the degree. The remaining credits required for the degree must be chosen in consultation with an adviser in the major area of concentration. Courses in speech and hearing science may be incorporated on an elective basis.
The above degree requirements are pending Brooklyn College and CUNY Board of Trustees approval.
——————————————————————————
Certification of clinical competency
——————————————————————————
Only students who complete the degree requirements, including the Praxis Examination in Speech-Language Pathology, are eligible for certification of clinical competency by the American Speech-Language-Hearing Association. Those students who intend to apply for New York State teacher certification as "Teachers of Students with Speech and Language Disabilities (TSSLD)," must present course work as described in option (b) or (c) of the matriculation requirements for the M.S. in education, teacher of students with speech and language disabilities, or must complete an additional 3 graduate credits in the School of Education as follows: SEED 7500X. Additionally, those students must complete SPEC 7551X and CBSE 7672T and 7677T. In order to be eligible for teacher certification, students must also pass exams and complete workshops as stipulated by the New York State Department of Education.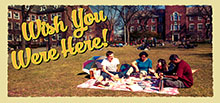 Take advantage of our two five-week summer sessions for both undergraduate and graduate students.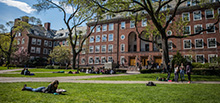 We'll show you around and introduce you to one of the most beautiful campuses in the country. Arrange a tour today.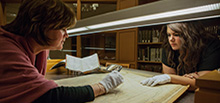 Our faculty not only share their discoveries and knowledge with you, they invite you to be active members of their research teams.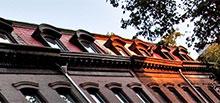 A privately owned residence hall is located just blocks from the college.

2017 All Rights Reserved Brooklyn College
2900 Bedford Avenue, Brooklyn, NY 11210
718.951.5000